It's chalk time again in Pasadena, California. Our yearly participation continues and this year we, suprisingly, got some recognition. In our 5th year participating, we've realized we've come a long way since our first mural. As usual, the decision on what to draw becomes a last minute task, but we always seem to pull it together. This year, we again, try to create something colorful and with enough details to keep us busy both days. Luckily, we had extra help this year on day one.
The Light Bringer Project presents this event every year and with the help of many sponsors, they provide chalk, refreshments and other goodies for the artist.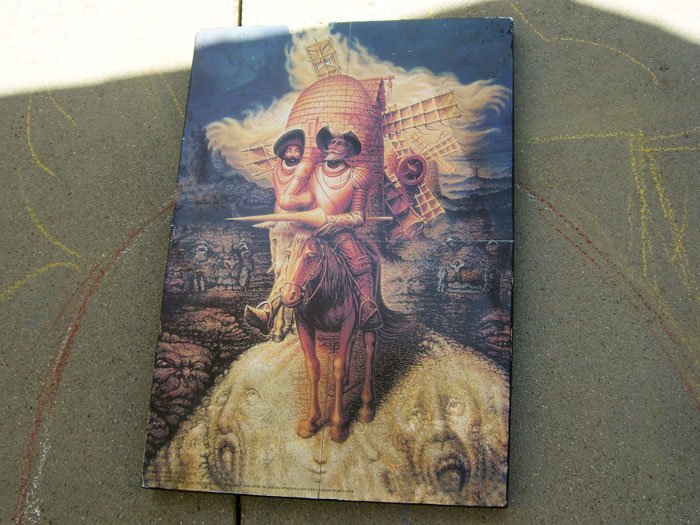 Drawing by Octavio Ocampo called "Visions of Quixote", was chosen on Saturday morning by Ender.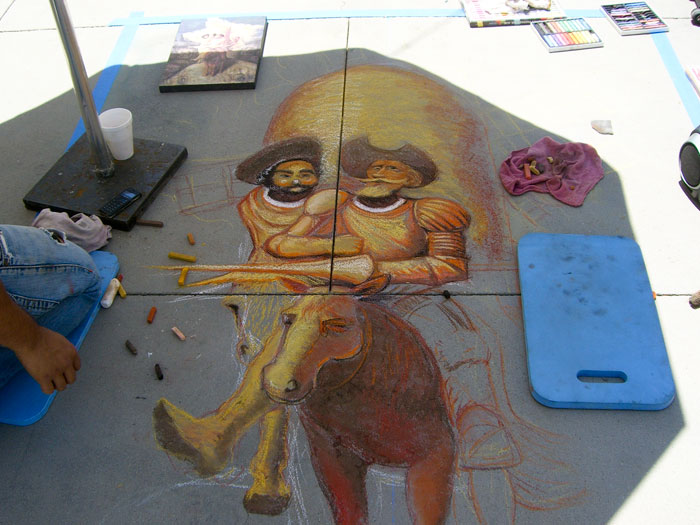 Our initial sketch is always a first layer with lines. This year we did not use a grid as the other years.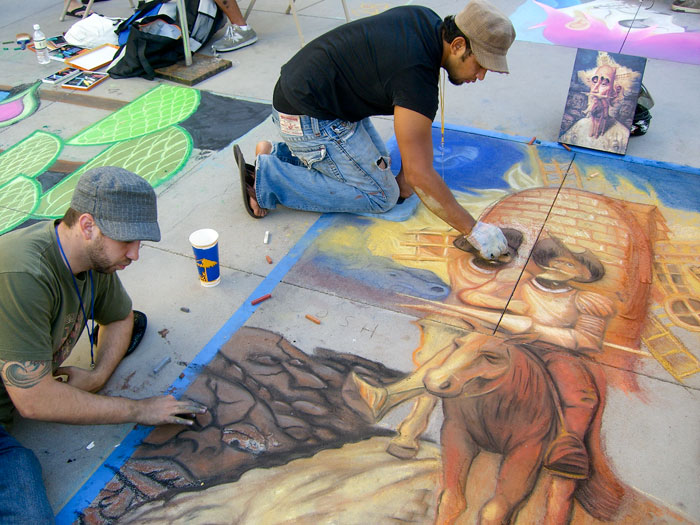 Ender and Ryan filling in the details on Saturday. Ryan was only able to help out on Saturday.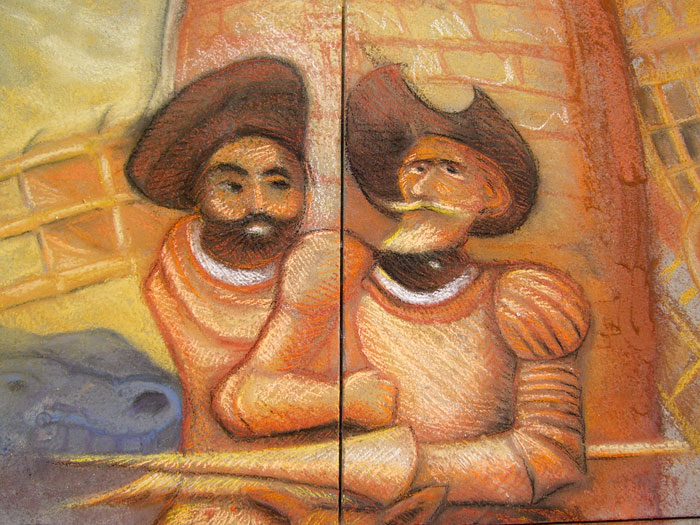 The drawing is supposed to be the face of Don Quijote made up by various images. Here's a close up.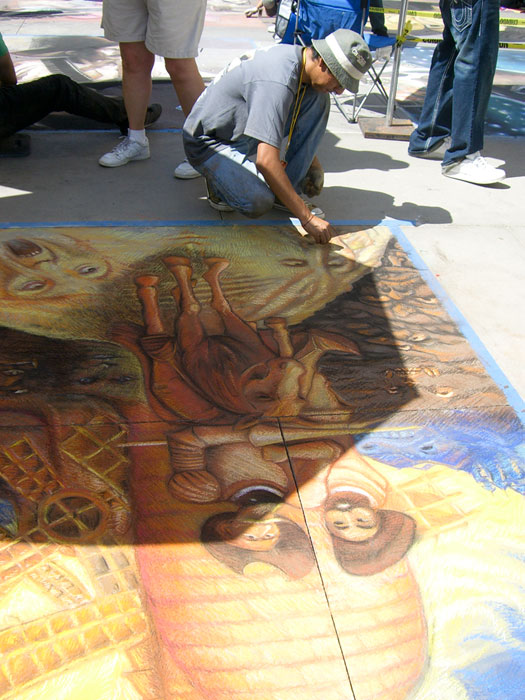 Here I am filling in the last details at the bottom. On both days it got very hot in the afternoon, so we always try to keep under the shade.

The event provides umbrellas, free chalk, a free tote bag, and the free t-shirt I'm wearing.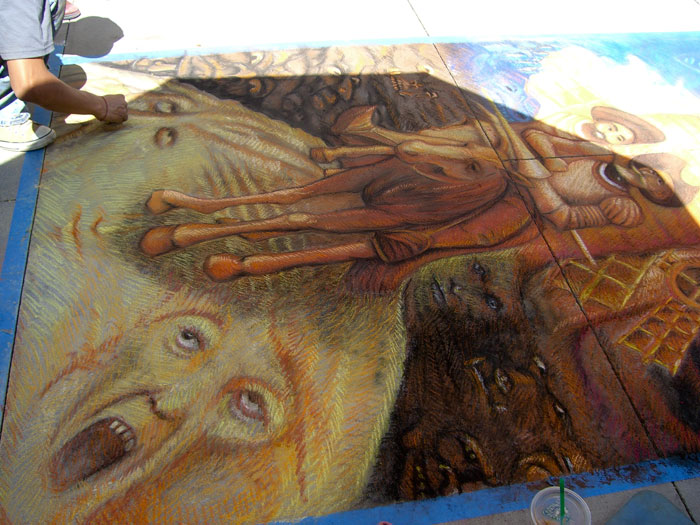 Ender and Ryan worked on the faces at the bottom. On day two, I went over with more colors and added chalk lines to make it more like a sketch drawing. I'm not good at smooth shading.
Favorite Murals
There were many chalk murals that day. I took pictures of many of them, but was not able to fit all of them on this post. Here are some of my favorites: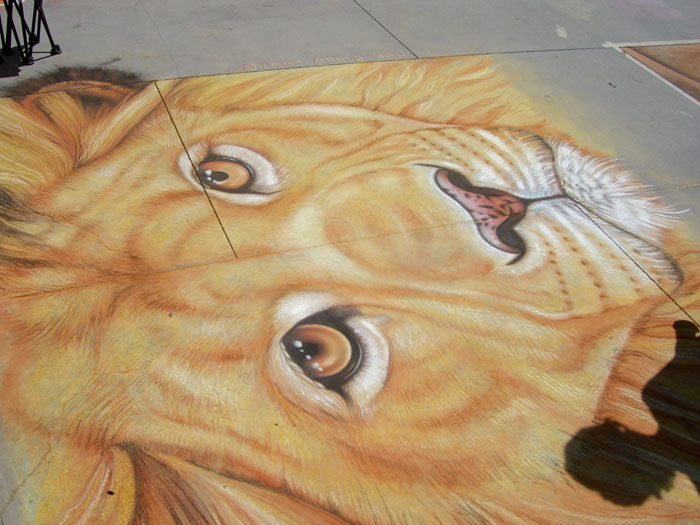 Drawing of a Lion. This group of artist make it look simple, but it is a complicated piece. This mural won 2nd place for Best of Festival.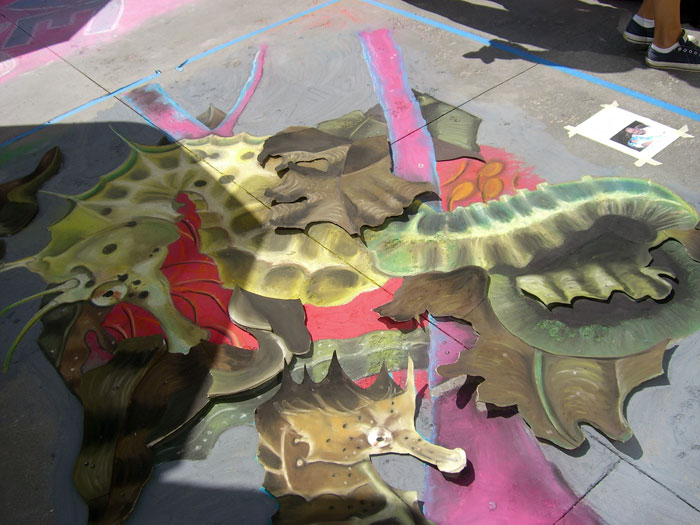 Drawing by a good friend Janine. This piece won an award for favorite 3D mural.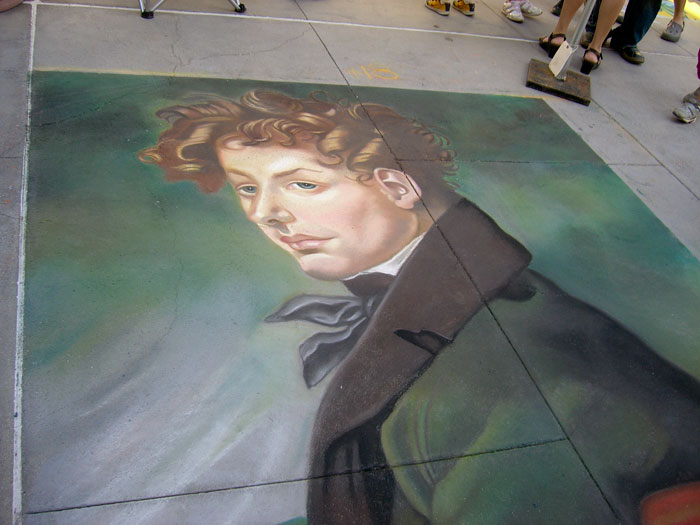 This piece won an award for Best Rendition of a Masterpiece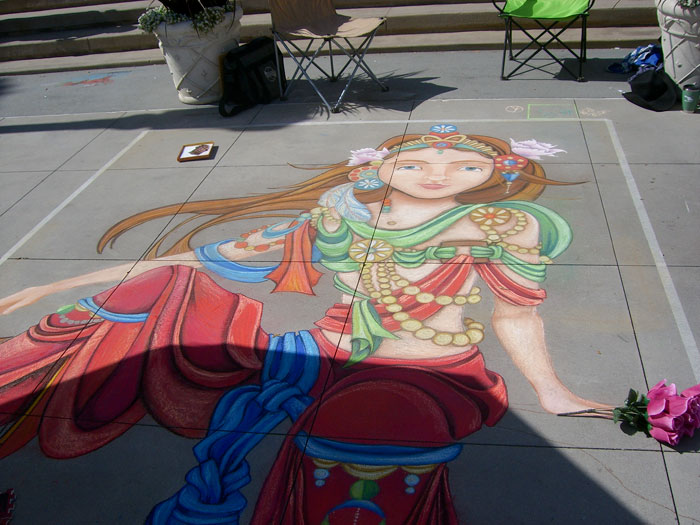 I like the use of color of this drawing, and how clean the artist was able to keep the area around the mural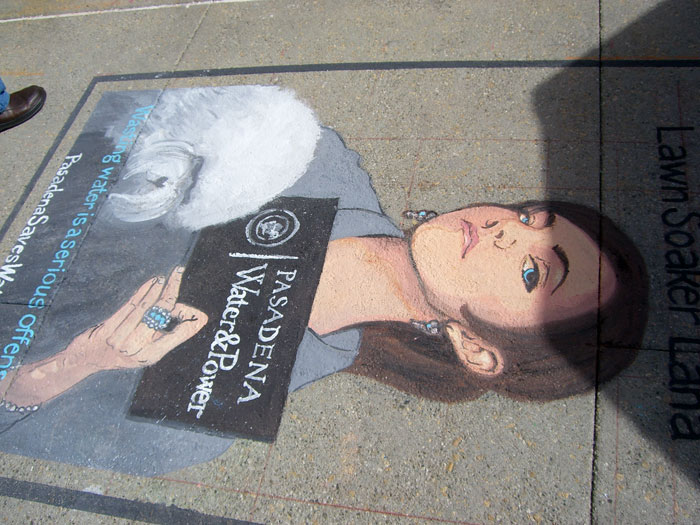 This drawing appears to be a painting. A technique that may have been used is a water and chalk mixture painted with a brush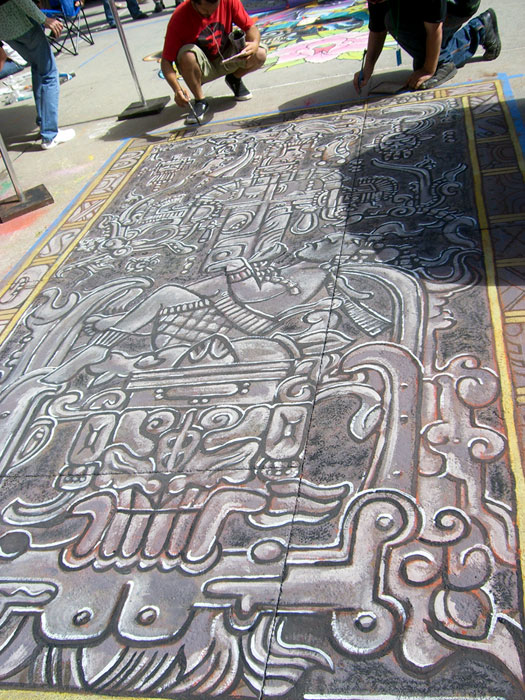 There were a couple of Mayan-style drawing. This was one of my favorites ones.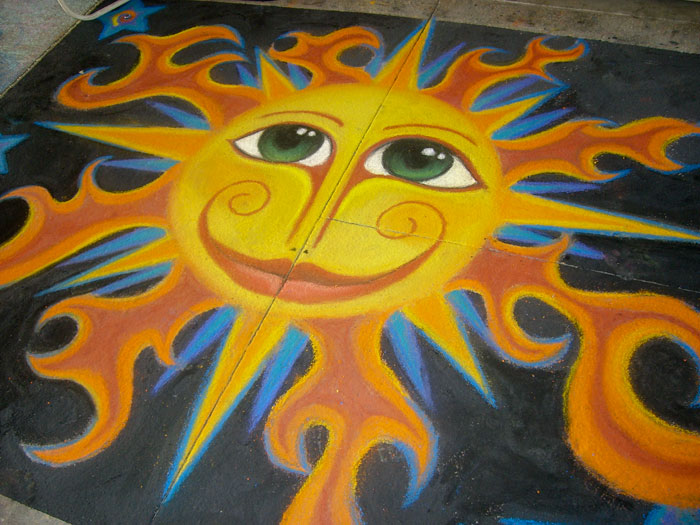 I love colorful drawings. This is a simple figure, but very well executed.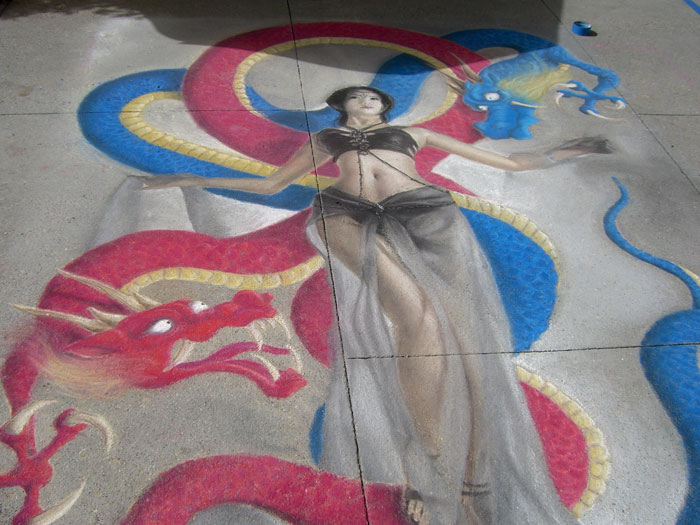 The details on the woman figure is excellent. The lighting and shading are amazing. This photo may not do it justice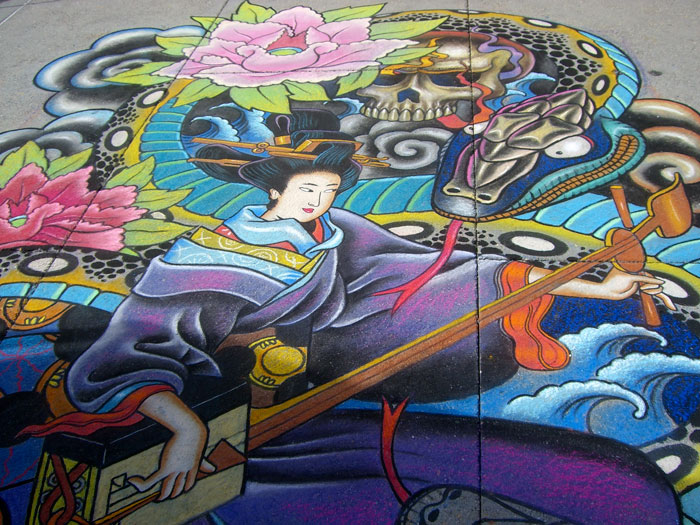 I believe this mural won 1st place for best of festival. Everything about this mural is great. From the composition, to the colors, to the technique. My vote went here too.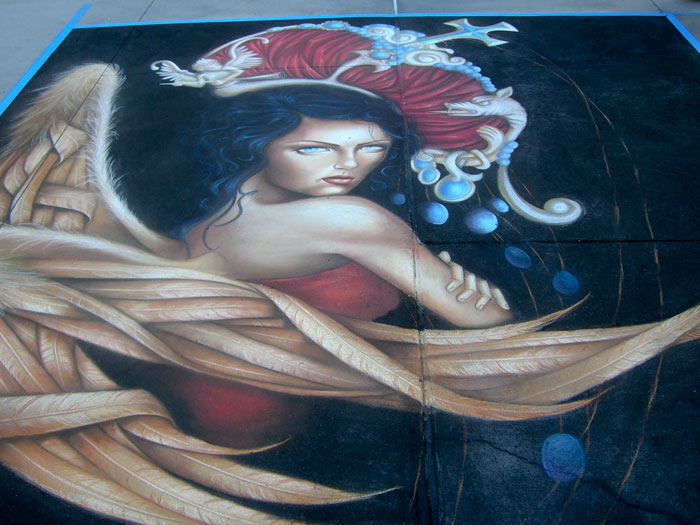 This mural won People's Choice Award. The quality and details used on the mural are by far the best I've seen in the event.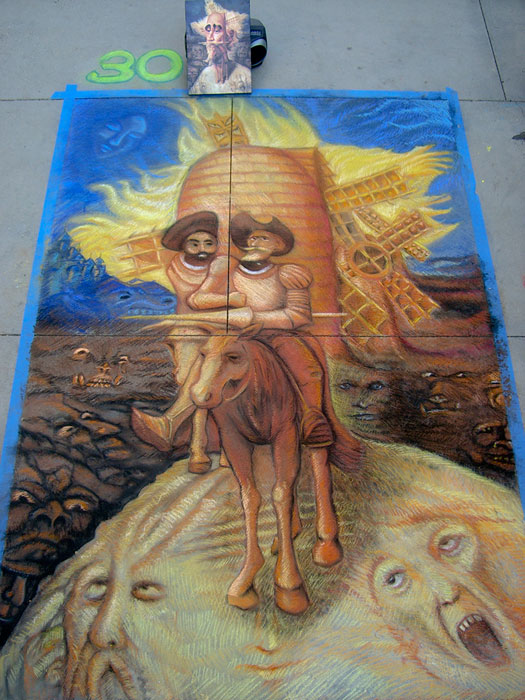 This piece (our piece) won an award "On the way to MOCA". Moca stands for Museum Of Contemporary Art.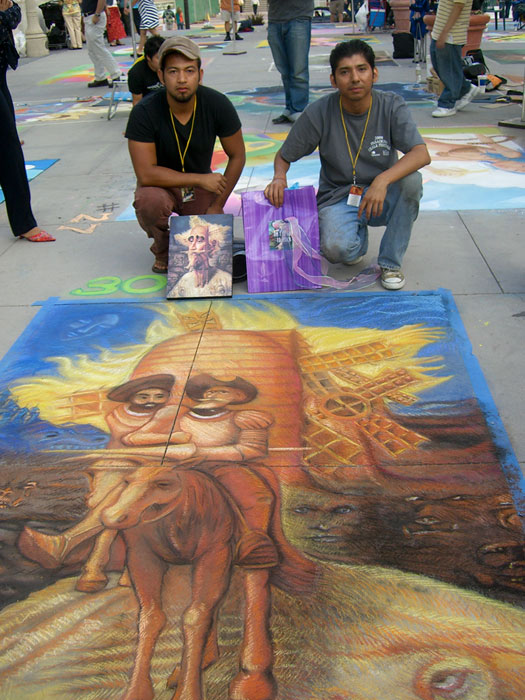 Ender and I received various prices with the award, including a year membership to MOCA and various gift cards (Thank you sponsors), but aside the prices, we were mostly happy for the recognition. The artist are the ones who vote the different awards, so it means that much more. We were able to go on stage, in front of all the artist, and talk about our mural and to thank everyone.
Well, that was it for this year. We're tired, but happy for the experience. Till next year!