Our 7th year participating at the Pasadena Chalk Festival was fun in many aspects. Usually, we scramble and work extra hard to finish our mural, but this year it seemed we were able to complete on time and were able to mingle more frequently with other artists. As usual, the decision for the design this year was a last minute choice. We recreated one of my original designs "Mother and Child", I believe I've extended the use of this design as far as I can.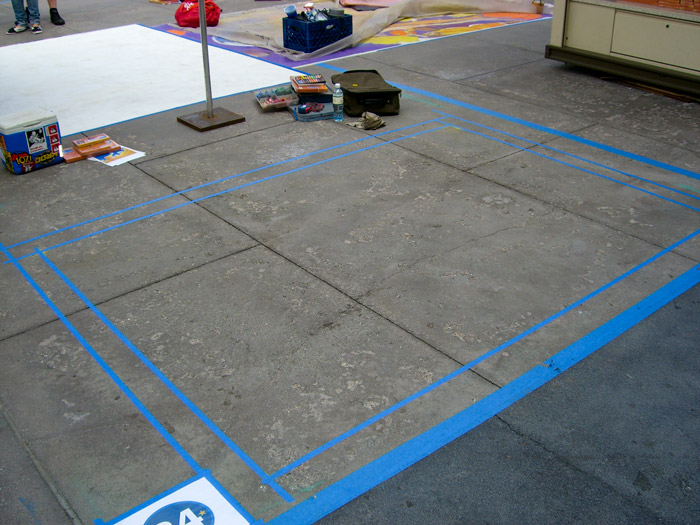 We begin with an empty canvas, made out of concrete. The mural was approximately 8'x5.5′. We use painter's tape to mark the borders.  I like to add a second border on our mural because people generally like to get closer, sometimes stepping on the artwork.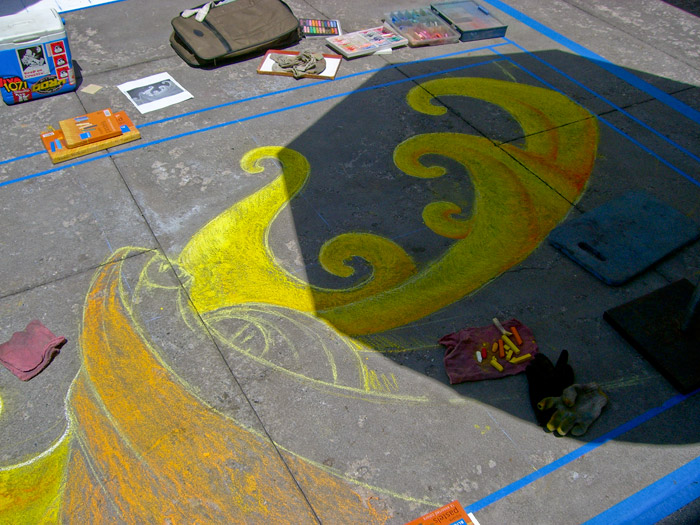 Because the design was very basic, we did a simple 2×4 grid. This design allowed plenty of room for free-hand drawing.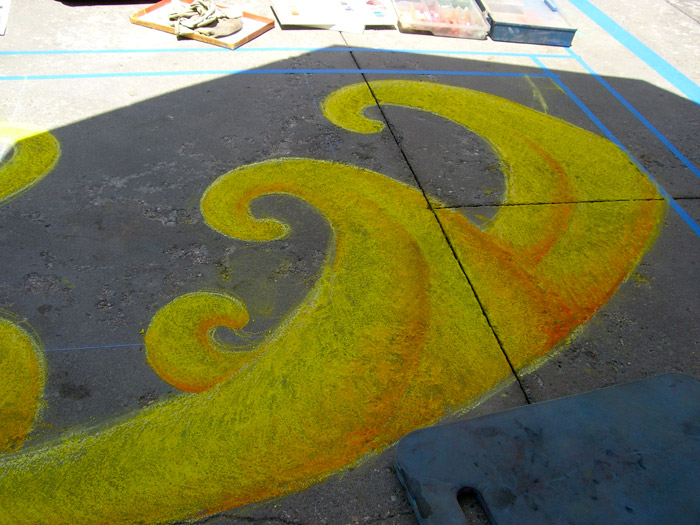 We begin applying the lighter colors first. Since our mural needed many layers of chalk, we begin with the solid yellow and gradually add other colors to the swirl pattern.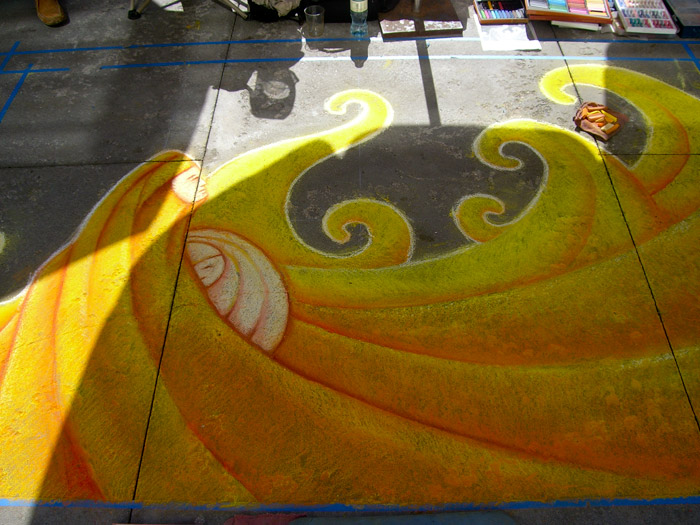 Day one ended with this this much drawing. We only drew the bottom half of the design because we knew the colors would smudge overnight. We also didn't have anything to cover our mural with.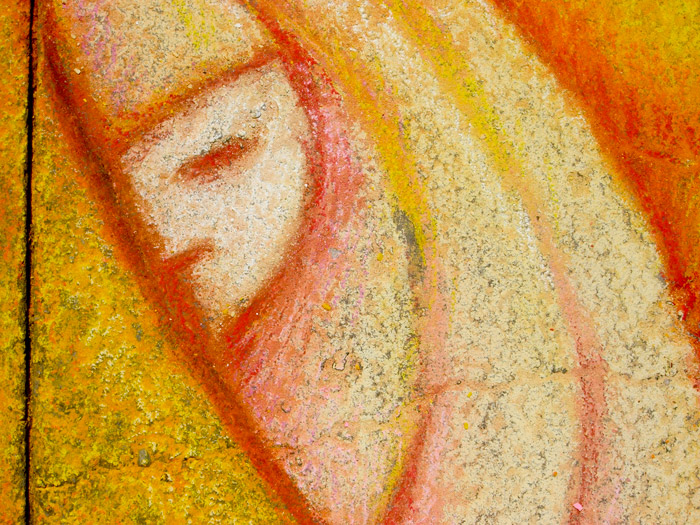 Here's a close up of the "baby". I'm never too concerned with the details of the design, although I wish I could do a better job in defining the facial attributes.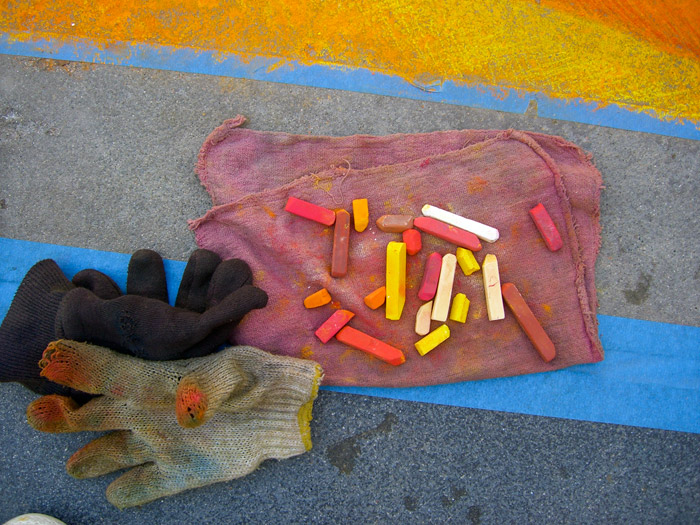 When drawing with chalk I like to wear gloves. These protect my hand from the chalk, the concrete when I lean on it, and specially when the chalk material gets really small there is always a chance of hurting your fingers and scratching them against the concrete.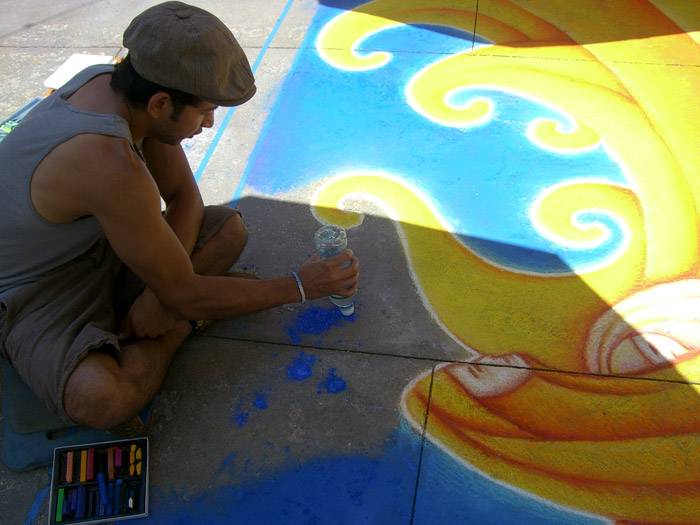 Here is Ender on day Two. On this day we applied many layers of blue for the sky. Ender uses a special patented tool for this process. He found it easier to smash the chalk first then smudging it on the concrete. This technique helped give the sky a nice gradation.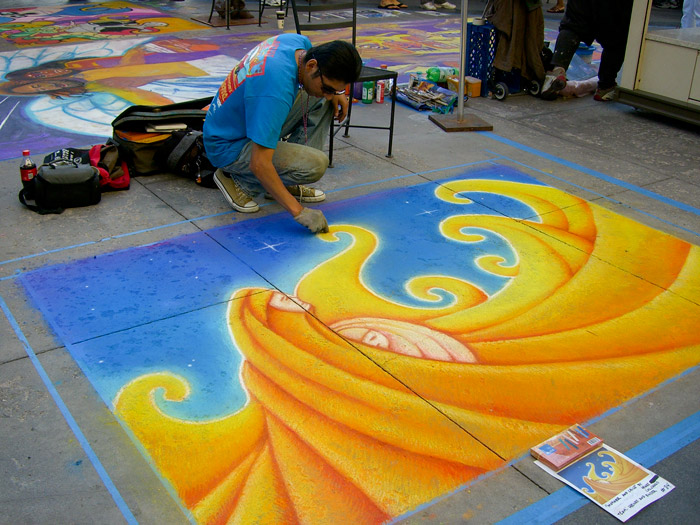 Here I am adding the final touches. The last details included going over the white lines and adding the stars.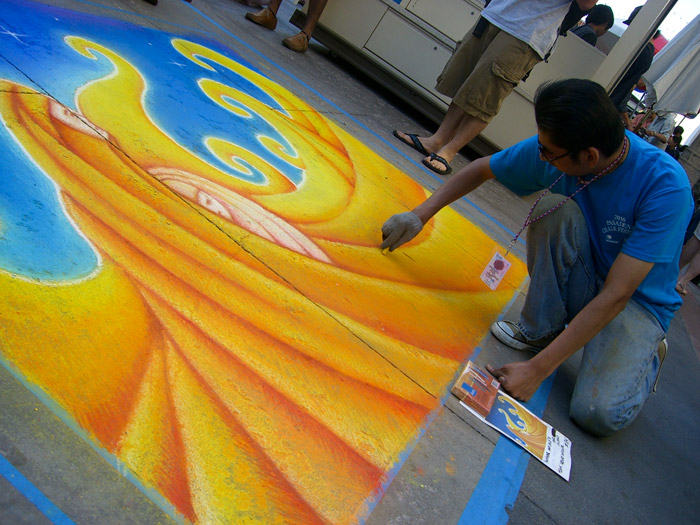 Its really difficult to draw towards the center of the mural once its mostly complete. I try to lean over as much as I can without falling in.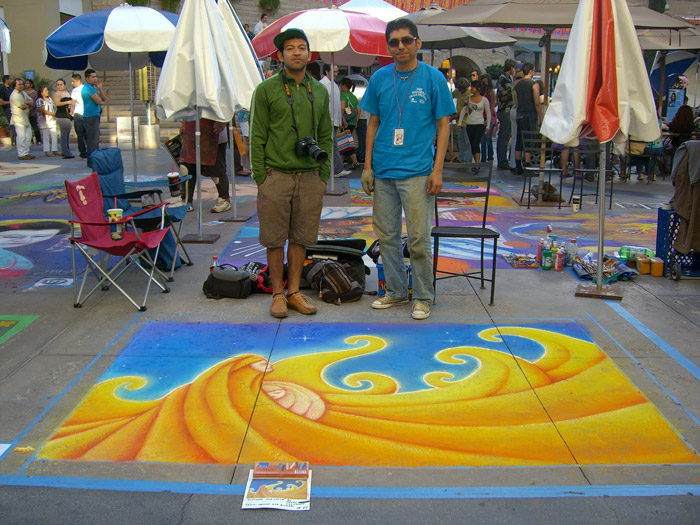 And here is the final piece. We were both really happy with the final result. Although the design was very simple, I think we executed it well. Adding many layers of yellow and blue helped bring out the colors nicely.
Here are a few other drawings I found interesting: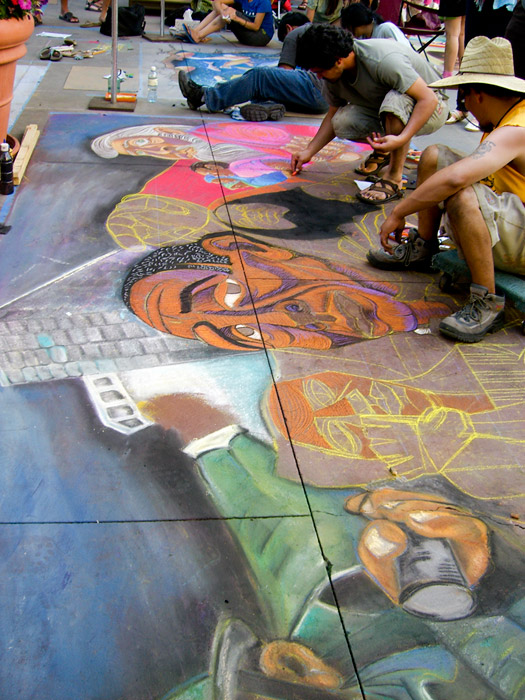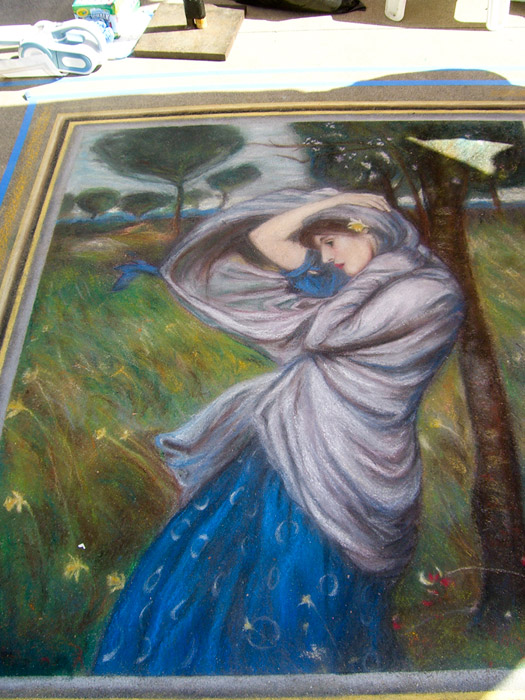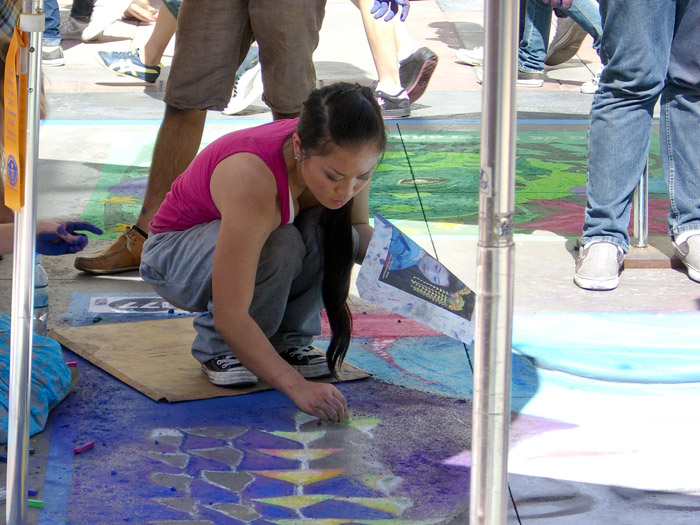 We met a new friend at the festival, a  first-timer, Miho. She did a great job with the design. I look forward to her mural next year.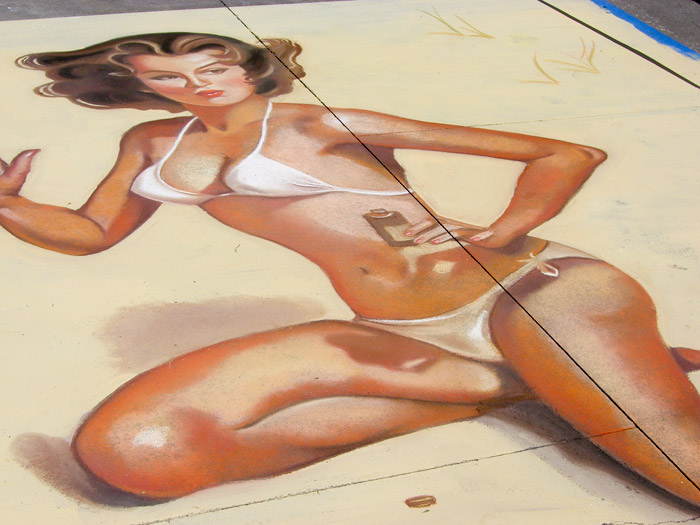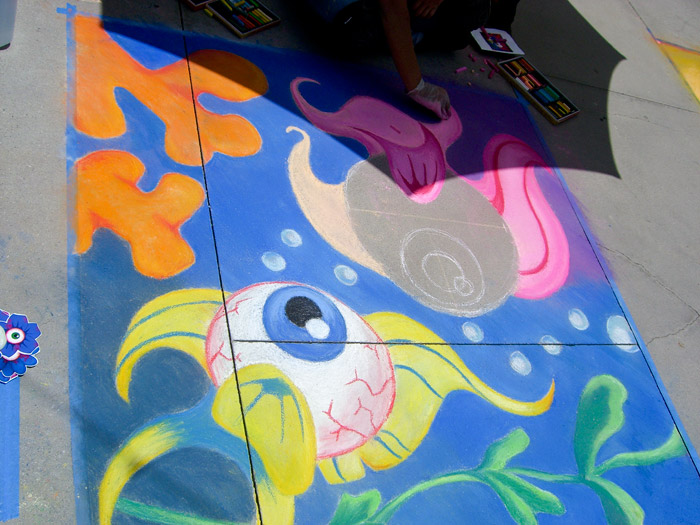 This drawing reminds me of the "fisheye" drawings I've done. Of course, they are completely different, but I like the concept.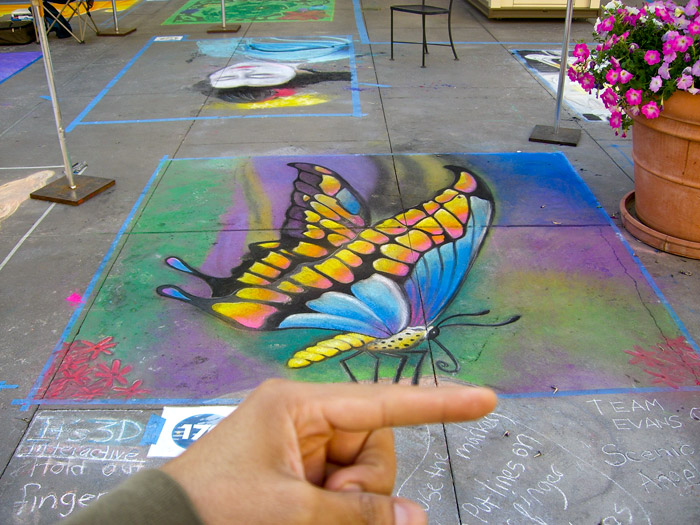 Here's a 3d drawing, well, it's a composition with the purpose of a 3d effect. I think it worked really well.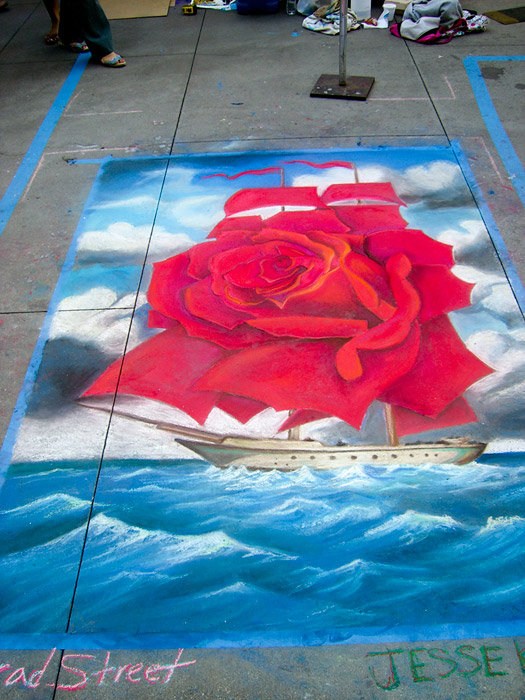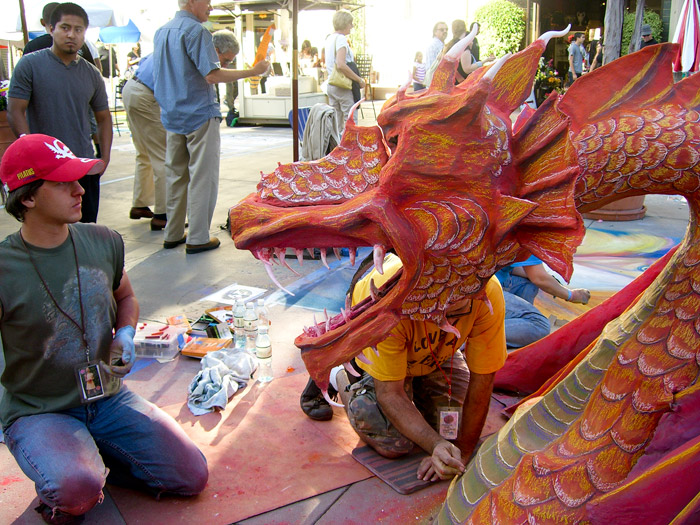 This is a chalk drawing that goes well beyond 3d. Not only did the sculpture look amazing, it also had cool effects like smoke coming out of its nose.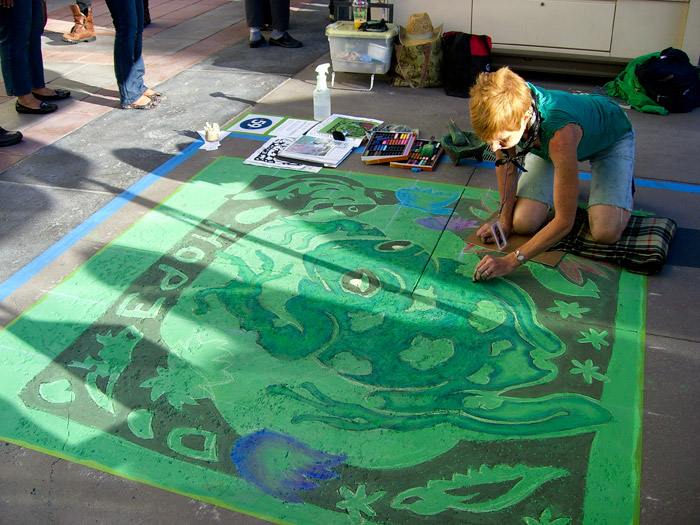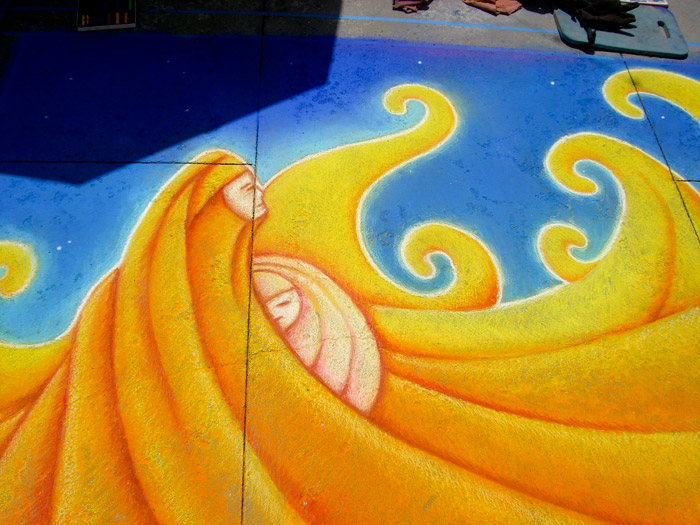 Here's our mural "Mother and Child". I hope you enjoyed the pictures. I definitely enjoyed this event, probably more than other years because this mural did not required a lot of details, which is usually what drains all of my energy.  Hopefully next year we'll step it up with another unique drawing and we'll try to raise the level of difficulty. Till next time.