It's been almost a year since I last posted. I haven't stopped drawing or painting, but I've slowed down a lot. Since moving back to Los Angeles, finding free time to paint or draw can be difficult. I've been attending drawing sessions for almost two years now. It used to be weekly when I lived in Riverside County, but now that its more like once a month. These drawing sessions with live unclothed models are a great way to maintain your drawing skills and try new media while attempting to draw very quickly. It's also a great opportunity to meet different artist and get inspiration from them.
Drawing sessions usually begin with short poses, about 1 or 2 minutes long, and gradually increase to up to 30 minutes. It usually begins with several 2-minute poses, then we break, then we start 5 minutes poses then break again. A couple of 10-minute poses and the longer poses can be up to the group. My favorite poses used to be 30-minute long poses, but now I feel I get more out of the drawing sessions with shorter poses.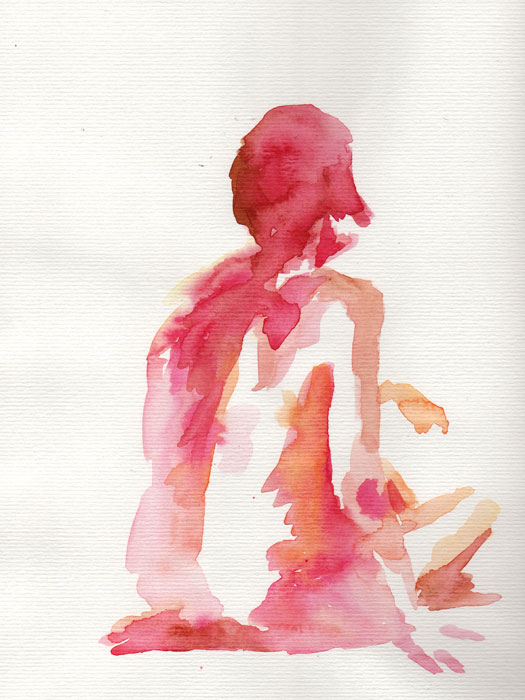 I normally begin drawing on regular white drawing paper using charcoal pencil, but as the session progresses I tend to change it up. Another reason I change up the media is because its easy to go through lots of paper after so many sessions. One day I decided to try watercolor. It seemed a quick way to give a colorful touch to quick sketches.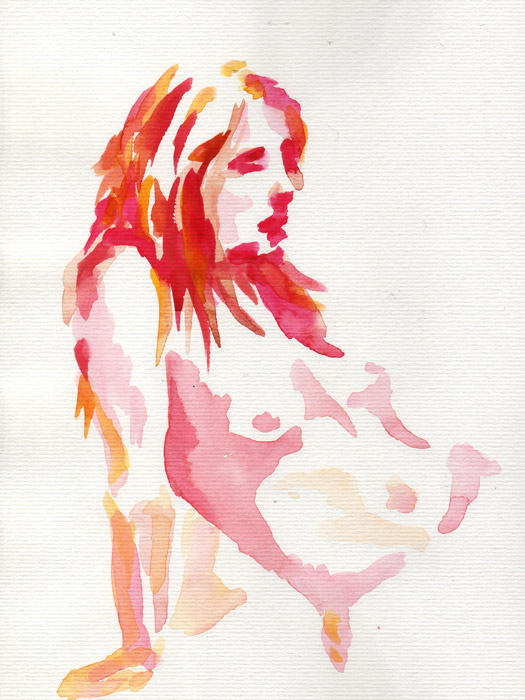 These watercolor sketches were done in about 5 to 10 minutes. Some of the sketches with more layers were probably 15-20 minute poses. None of the sketches were drawn or outlined with pencil first, I used the watercolors directly. I begin with a light mixture first, then analyze the shadows and apply a darker mix.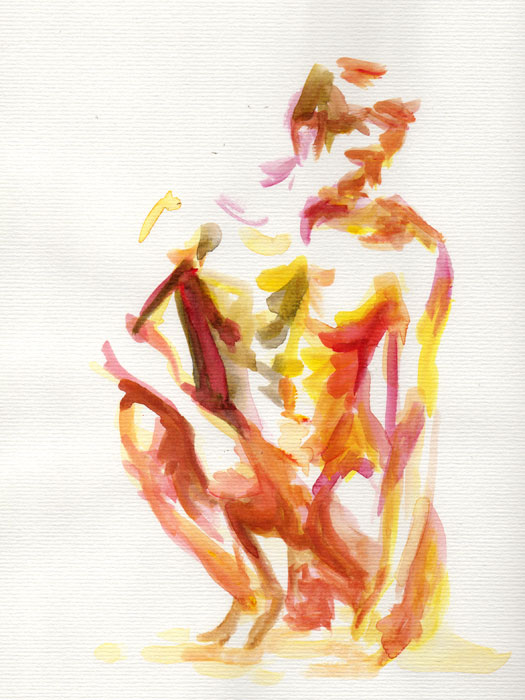 During the many drawing sessions I've attended there has been a series of models, with different body types – different shapes, weight, height, gender, race, etc. The models are usually fully nude but often times its fun to vary it up with props. The props help create new lines, angles and shadows.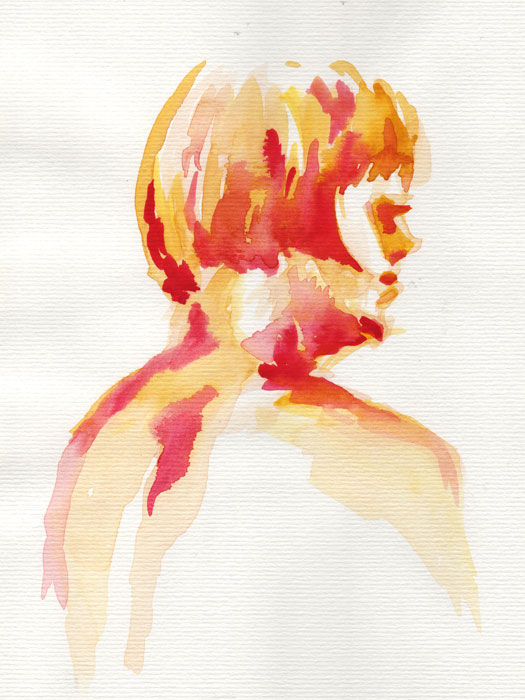 I sometimes like to draw the faces of the models. With so little time to draw these quick portraits, I find it very challenging to draw a face or some shadows that will give enough details to know its a face. Its definitely a good exercise.
A few more drawings: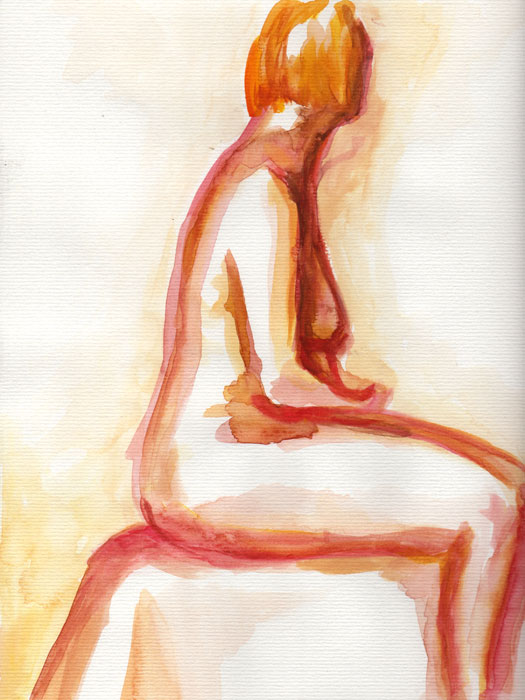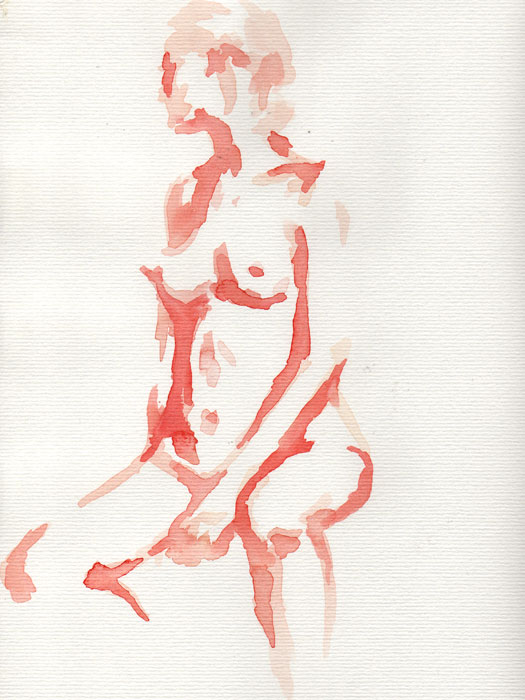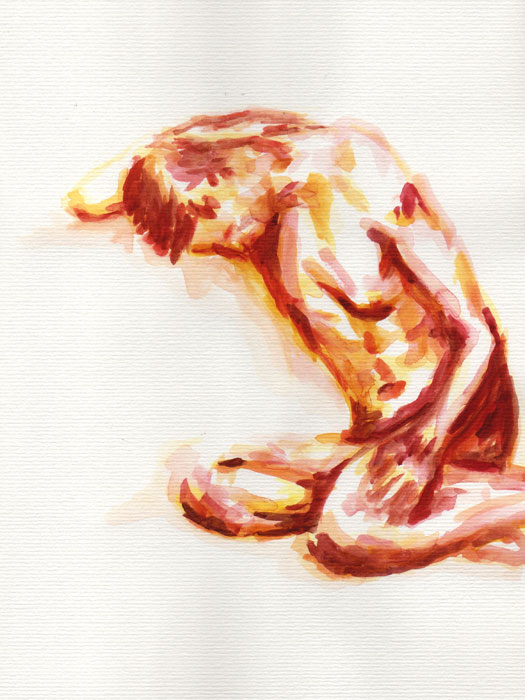 All of these watercolor drawings were done on 9″x12″ water color paper (90lbs). I really like the texture of the paper and I'm happy with the unfinished look of the drawings. I like the artwork to highlight the media used, not to look like a realistic photograph. For now I've stopped doing figure drawing on this media, but have moved on to other material. I will post those other drawings as soon as I get a good set. Unlike other posts, its difficult to show progress of these drawings since the sketches are done very quickly. I hope you enjoyed these watercolor sketches. Till next time.